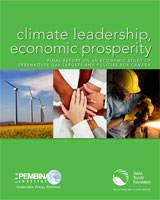 The David Suzuki Foundation and the Pembina Valley Institute released their controversial and powerful report, Climate Leadership, Economic Prosperity: Final Report on an Economic Study of Greenhouse Gas Targets and Policies for Canada in preparation for the UN Climate Summit in Copenhagen in December, 2009. Commissioned by TD Bank of Canada and carried out by the economic modelling firm M.K. Jaccard and Associates, this report was commissioned to look at two basic scenarios regarding Green House Gas (GHG) emissions:
Cut Canada's GHGs by the current government's aim of 20 percent below 2006 levels by 2020 (3% below 1990 levels)
Cut GHGs to levels recommended by the UN Framework Convention on Climate Change and the Intergovernmental Panel on Climate Change (a 25- 40% decrease below the 1990 level by 2020).
The 25-40% decrease below the 1990 level is a recommendation set to keep earths temperature from rising more than 2°C above the pre-industrial level. A rise of more than 2°C would "constitute a dangerous level of climate change" and have implications disastrous to both the world economy and human life. The report works off of a 25% decrease in GHG's below the 1990 levels by 2020, the minimum being recommended.
The Climate Leadership, Economic Prosperity report has laid out a plan that would help Canada meet these targets but it is controversial because it follows a hard line that will invoke backlash from some of the most prosperous of Canadian Provinces (Alberta and Saskatchewan) and Canadian Industries, (Oil and Gas), and it will mean that the Canadian Government must institute new regulations and Policy and commit large sums of capital to ensure targets are met. However, when you sit down and read through the changes that the report is recommending it actually shows that the Canadian economy will respond positively compared to both a do nothing approach that will have its own cost, equivalent to losing Gross Domestic Product (GDP) of at least 5% and up to 20% according to economist Sir Nicholas Stern and compared to the Government of Canada's current approach.
Changes the Climate Leadership, Economic Prosperity report recommends in order to meet the 2°C target involve:
A carbon price of $50 per tonne increasing to $200 per tonne by 2020
Emitters of carbon will pay for every tonne they emit either through a cap and trade system or an emissions tax
Use of new technologies to ensure:

Capture and storage of CO2 from oil and gas, and power plants
Reduction of emissions from oil and gas industry and landfills
Increased energy efficiency throughout the economy (vehicles and buildings)
Increase production of renewable energy
Replacement of fossil fuels by cleaner electricity (for heat)

New policies and stricter laws in Canada
Half of carbon pricing revenue returned to Canadians to reduce personal income tax and create jobs
Compensate increases in household energy costs in targeted areas through payouts from the carbon pricing revenue
Canada institutes policies regarding its trading partners ensuring that they also follow the same standards or Canada shifts GHG - intensive activities to other regions.
Statistics for 2°C targets and Government targets are:
| 2°C Targets | Government Targets |
| --- | --- |
| Carbon price of $50 per tonne must increase to $200 per tonne | Carbon price must rise from $40 per tonne to $100 per tonne |
| GDP growth of 23% or 2.1 % annually | GDP growth of 25% or 2.2 % annually |
| Job growth of 10.7% with 1.86 million new jobs | Job growth of 11% with 1.91 million new jobs |
| Revenue from Carbon pricing of over 70 billion dollars | Revenue from Carbon Pricing of over 45 billion dollars |
| Income tax reductions for Canadians | |
| Payouts to Canadian households | |
The revenue from carbon pricing will be a huge amount of money into Canada's coffers. Half of the money will go back to Canadians reducing personal income tax and increasing take home pay, as well as compensation for individuals in households that will have high energy cost increases.
The Canadian Government will need to institute new laws, requirements and policy for the 2°C targets to be met. Suggested changes from the Climate Leadership, Economic Prosperity report include:
Price on GHG emissions across the economy (cap and trade or emissions tax)
Decrease vehicle emissions to match California
Stronger energy efficiency requirements for new houses and buildings
Venting and flaring limited to only what's necessary
Regulations to capture landfill methane gas
Requirements to capture and store CO2 from all new natural gas processors, coal fired plants and oil sands as of 2016
Full cost pricing for nuclear power
Payments to individuals to compensate for increase in household energy costs
Decrease in personal income taxes
Measures to on low income people from increase in energy costs
Measures to protect industry sectors where production would otherwise relocate
Electricity infrastructure improvements
Investments in public transport infrastructure
View October 2009 report, Climate Leadership, Economic Prosperity Report
View October 29, 2009 David Suzuki Foundation press release
View October 29, 2009 The Pembina Institute press release
View Government of Canada Regulatory Framework for Greenhouse Gas Emissions (PDF)
View October 29, 2009 CBC article
View October 30, 2009 British High Commissioner press release
View October 29, 2009 Island of Doubt blog article
View October 30, 2009 Ottawa Citizen article
View November 3, 2009 David Suzuki Commentary on The Straight.com
View November 6, 2009 Globe and Mail article


Sources: David Suzuki Foundation, Pembina Institute, Environment Canada