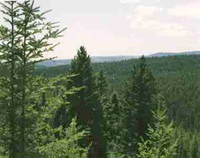 Comparing Manitoba Government 1999 Forest Management Plan (FMP) Submission Guidelines to the 2007 Forest Management Plan Submission Guidelines shows a number of differences that change the tone, perhaps intent, of the 2007 guidelines from the 1999 guidelines. These changes favour the proponent through less specific language and add more proponent discretion. There are also additions that increase the scope of the FMP Submission Guidelines to include community discussion and ensuring species protection.


Some changes are in sections being added to or dropped from the new guidelines. These include the addition of required sections on Reporting Communication, Socio-Economic Conditions, Development Activities and Research, Certification audits, FMP amendments and a new section on requirements to include lands within the FMP otherwise allocated. There is also a new section on Pre-Planning Requirements including terms of reference that are part of the approval process, and are required to be fulfilled.

*Note: Terms of Reference:
The terms of reference is a living document to be used by the proponent and Manitoba conservation as a planning aid to share information including scheduled activities, which Manitoba Conservation will approve, normally two years prior to plan submission, such as wood supply information and /or analysis (base case will be provided by the province). If Manitoba does not have a base case completed, in part or in total, by the time the terms of reference for the FMP response is submitted, the Director of Forestry will give written instructions to the proponent on how to proceed in a timely manner. The province will also provide:
Date of FMP submission to Forestry Branch
Details of Manitoba Conservation review process
Details of Environmental Assessment and Licensing Branch process, under the Manitoba Environment Act (dates and actions required)
Manitoba's First Nation consultation process (timelines and communities), including proponent's role in providing information for consultation
Proposed FMP approval date
Existing issues on the forest management license area
Confirmation that the suite of indicator species (plant and/or animal) proposed are satisfactory
Available information regarding other resource users, other relevant landbase management plans
The proponent will provide:
The public communication plan
Existing issues on the forest management license area
The selected indicator species to be analysed in the FMP
A request for information regarding other resource uses and the date the information is required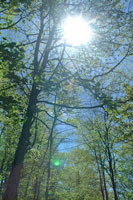 Most other changes to the 2007 document are centered on wording with a loss of prescriptive language that leaves many topics up to the discretion of the proponent. Examples of these include current forest condition and management conditions, biodiversity, biological diversity and landscape diversity.
A contested issue is the change of wording of the guiding principle of the FMP in the 2007 Guidelines from "Ecosystem Based Management", which covers actual management techniques, to simply, "Ecosystem Management", a generic and vague term. Another change in wording drops the concept of "2-way communication" to say "information delivery" taking the focus of communication away from hearing concerns and questions from the public, to putting more focus on just providing information.
Sections included in the 1999 guidelines that have been dropped in 2007 include a section on Landscape Diversity, although a description of landscape diversity is required under the Current Condition of the Forest section.
Protected areas are a focus in the 1999 Guidelines, however in 2007 although mentioned a few times, the topic isn't warranted a definition in the glossary despite being a main focus of forestry planning and policy throughout Manitoba forest regions.
Concepts now included in the 2007 guidelines are that proponents are now required to, "include a discussion on addressing the integration of recovery plans for provincial and federal Species At Risk that occur in the license area". The Guidelines state explicitly that indicator species put up for discussion by the proponent must be approved by the province. This is an improvement from the 1999 Guidelines where it was suggested management guidelines should address the subject of indicator species. However, the proponent is no longer required to provide information on biodiversity, forest productivity, and wildlife habitat and population.
The 2007 guidelines have stronger notions that forest management planning must recognise ecological and social values, and recognise consultation obligations to Aboriginal people. Sustainable forest management is now defined. The renewed guidelines also encourage recognition of boundaries other than those of the administrative FMU (Forest Management Unit) such as watersheds and wildlife areas. The proponent must provide a map showing any provincial forests, parks, protected areas, areas of special interest, ecological reserves operating areas, ecoregions, ecozones, status and ownership providing a more comprehensive picture of the FMU and surrounding areas.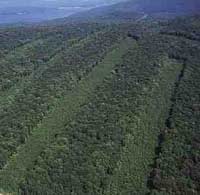 The 2007 guidelines have more references to biodiversity and ecological diversity and new sections that cover areas previously overlooked in 1999. However, stronger language could have been used in many sections as well as more detailed information on Annual Operating Plans, landscape diversity and modelling wildlife habitat. The addition of new sections and new references such as the Terms of Reference help clarify the Guidelines. The expectation that forest management planning must recognise other social and ecological values is welcome, but has been reflected in past EIS Guidelines for FMPs in Manitoba.
It should be noted that Manitoba continues to avoid cumulative assessments when considering a 20 year - or long term - forest management plan. There is no public information or assessment to show the results of the previous FMP activities, or environmental impacts. Also the annual cutting plan assessment by Manitoba Conservation is not public. Information to show the actual cut during the period of a FMP is not made available public either. Rather, annual plans include cutting projections only for up to three years. Often other public policy, or regulatory impacts on the same forest landscape are missing from the review and licensing process for both the FMP and annual plans. The terms of reference tool for the 2007 Guidelines has not resulted in any information being made public to date.
All current FMP and environmental licences for forestry companies in Manitoba are based on public reviews and comments, response from the proponent, posting of internal government reviews, and then Clean Environment Commission hearings. More recently forestry companies have ended up with annual extensions on their operating licences and environmental licenses.

Download December 2007 Manitoba's Submission Guidelines for Twenty Year Forest Management Plans (PDF)


Download 1999 Manitoba Natural Resources Ten Year Forest Management Plan Submission Guidelines (PDF)