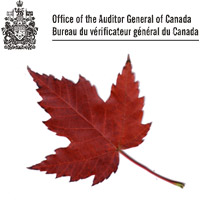 Scott Vaughan, Canada Commissioner of the Environment and Sustainable Development, released a report highly critical of the Canadian Government May 8, 2012.


The Commissioner's main findings were:
The government did not comply with the Kyoto Protocol Implementation Act. The Conservatives have announced they will repeal the Kyoto Implementation Act arguing that it is too costly for Canada to remain part of the Kyoto Protocol. The Commissioner found that Conservatives had no cost estimates to back this claim.
According to Environment Canada's own forecasts Canada will not meet current targets of 17 per cent below 2005 levels by 2020. Instead emissions are set to increase 7 percent above the 2005 levels.
Ottawa is facing a $7.7 billion bill to clean up 13,000 federally-owned contaminated sites across the country, but has only set aside a fraction of the money needed.
"I have grave concerns. Climate change is about a moral responsibility, intergenerational responsibility, and under the Kyoto Protocol Implementation Act, they also had legal responsibility. Under the Budget Implementation Bill, they're going to repeal that," said Liberal Environment Critic Kirsty Duncan.

"Without an implementation plan, industry, consumers and other levels of government lack a solid basis for knowing how to adjust technology and make formal investment decisions," said Vaughan.

NDP Environment Critic Meagan Leslie said "It's pretty unbelievable for the Conservatives to say they will ditch one plan, say, 'We're going to do it sector by sector, we have a plan, the plan is working.' It's very clear the plan is not working."

"We cannot ignore environmental liabilities, whether due to the climate crisis or toxic waste sites. Economic health is completely dependent on ecological health," said Green Party Leader Elizabeth May.

View May 8, 2012 Office of the Auditor General: Environment Commissioner press release
View May 8, 2012 Office of the Auditor General: Environment Commissioner report
View May 8, 2012 CBC News article
View May 8, 2012 Global News coverage
View May 8, 2012 Toronto Star coverage
View May 8, 2012 Macleans.ca coverage
View May 14, 2012 Hill Times coverage
View Manitoba Wildlands Climate Change: Canada Initiatives page


Source: Environment Commissioner, Hill Times