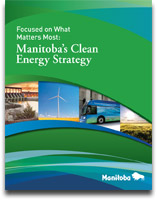 Innovation, Energy and Mines Minister Dave Chomiak announced a new energy strategy for Manitoba. What Matters Most: Manitoba's Clean Energy Strategy was released November 20, 2012.


"This strategy is all about making energy choices today that will create a stronger economy and a cleaner environment for our future. Is fossil fuel freedom achievable? We're closer than you might think," stated Chomiak.

Priorities the Manitoba Government identified in the strategy include:
Building a new generation of hydropower projects in Manitoba's north.
Improving energy efficiency within Mantoba.
Expanding renewable energy alternatives such as wind, solar, geothermal, and biomass.
Promoting the uses of ethanol, biodiesel, pure electric and hybrid vehicles.
"We certainly do need to wean ourselves from dependence on fossil fuels. There are both good and not so good aspects to this strategy, but with public input it could have been significantly improved. It is unfortunate this strategy was released without any opportunities for public input," said Manitoba Wildlands Director Gaile Whelan Enns.

View November 20, 2012 Government of Manitoba What Matters Most: Manitoba's Clean Energy Strategy (PDF)
View November 20, 2012 Government of Manitoba press release
View November 22, 2012 Portage Daily Graphic coverage
View Manitoba Wildlands Governments page


Source: Government of Manitoba